null
CARPA6 was held with Artistic Doctorates in Europe (ADiE)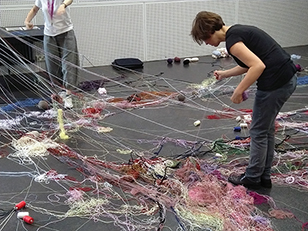 Photo: CARPA6 workhop by Jana Unmussig in Kiasma Theatre
The 6th biennial international conference Colloquium on Artistic Research in Performing Arts (CARPA6) was held in collaboration with Artistic Doctorates in Europe (ADiE) on 28-31 August 2019.
The main conference dates were 28-30 August. They followed by an ADiE post-conference event on 30-31 August.
The shared theme of the conference and post-event was:
Artistic Research Performs and Transforms: Bridging Practices, Contexts, Traditions & Futures.
Conference venues:
Kiasma Theatre, Helsinki
https://kiasma.fi/en
AND
Zodiak - Centre for New Dance,Helsinki
https://www.zodiak.fi/en

Read more about: CARPA6
Read more about ADiE:
Artistic Doctorates in Europe: Third Cycle Provision in Dance and Performance is an Erasmus+ project: https://www.artisticdoctorates.com