Centre for Artistic Research
CfAR – the Centre for Artistic Research – is a profiled research centre at the University of the Arts Helsinki (Uniarts Helsinki). Its principal aim is to develop and support activities in Artistic Research (AR) at the postdoctoral level, both in the Academies (Academy of Fine Arts, Sibelius Academy, and Theatre Academy) and in the Uniarts Helsinki as a whole.
CfAR was created in order to form a community where artistic practice and practitioners, research and researchers can interact in varied and fruitful ways. It gathers all postdoctoral artist-researchers, whether they work in professional fields outside universities or within them, by contract or as visiting researchers, with or without external funding, in Finland or abroad. The staff members at Uniarts Helsinki who have a degree in the arts or conduct artistic research are automatically part of the CfAR community regardless of their unit or cycle. In addition, CfAR is open to other researchers interested in the study of artistic practices and processes who may benefit from artistic interaction and collaboration with artists and artist-researchers.
Introduction to Uniarts' research as a whole, including AR, other types of research, and doctoral research:
Uniarts Helsinki research
null
CfAR Academy-based Research Project 2019-20 is awarded to Leena Rouhiainen and Kirsi Heimonen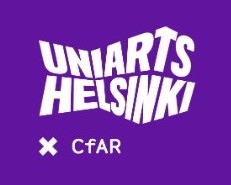 We are pleased to announce that CfAR's Academy-based Research Project 2019-20 is awarded to Professor Leena Rouhiainen and Dr Kirsi Heimonen on their project titled 'Phenomenological explorations in artistic research through cases of breath, air and atmosphere focused performance and choreography'. Congratulations!
Kirsi will start her post as postdoctoral researcher in October 2019. Leena will take a research leave from Tutke to work on the project in April-June 2020. The project concludes in summer 2020.
The call (deadline in May 2019) was addressed to research-active staff members at Uniarts Helsinki and postdoctoral researchers working at or affiliated to Uniarts Helsinki. The aim for the funding is to create new Academy-based research projects with a small team of one senior staff member and one postdoctoral researcher. The call is designed to 1) help in creating new research; 2) reinforce the research-based development of the Academies; 3) enhance cooperation between the Academies and CfAR.