Centre for Artistic Research
CfAR – the Centre for Artistic Research – is a profiled research centre at the University of the Arts Helsinki (Uniarts Helsinki). Its principal aim is to develop and support activities in Artistic Research (AR) at the postdoctoral level, both in the Academies (Academy of Fine Arts, Sibelius Academy, and Theatre Academy) and in the Uniarts Helsinki as a whole.
CfAR was created in order to form a community where artistic practice and practitioners, research and researchers can interact in varied and fruitful ways. It gathers all postdoctoral artist-researchers, whether they work in professional fields outside universities or within them, by contract or as visiting researchers, with or without external funding, in Finland or abroad. The staff members at Uniarts Helsinki who have a degree in the arts or conduct artistic research are automatically part of the CfAR community regardless of their unit or cycle. In addition, CfAR is open to other researchers interested in the study of artistic practices and processes who may benefit from artistic interaction and collaboration with artists and artist-researchers.
Introduction to Uniarts' research as a whole, including AR, other types of research, and doctoral research:
Uniarts Helsinki research
null
Paula Kramer's postdoctoral artistic research took place on Suomenlinna in August 2018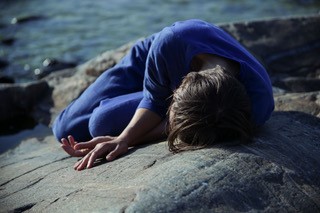 A workshop, performance and discussion of Paula Kramer's postdoctoral artistic research took place on Länsi-Mustasaari (Suomenlinna) on August 14th (workshop) and 17 - 19.08.2018 (performance, plus discussion on the last day). The workshop-participants were a product designer from Helsinki, an illustrator and designer from Berlin, a member of the dance community in Helsinki, a visual artist/photographer and artist-researcher from Helsinki, a musician and PhD student from Sibelius and a performing artist and member of theMAECP (TEAK) cohort. What seems most relevant here is that the workshop attracted and spoke to practicing artists, makers and researchers across the often-separated disciplines of visual and performing arts and music. The work was documented by Venla Helenius (stills) and Riikka Innanen (video). It has been discussed since its performance at the annual symposium of the Society for Dance Research in Germany (gtf) in early October 2018 and will continue to inform conference contributions by Paula Kramer throughout 2019.
A being-together, a dance, a making-of-contact with rock, body, sea, wind, weather, feather, buoy and so on. A different framing and setting each day, first golden-relaxing evening sun, then mysterious-near-rainy haze, then strong winds post rain. A different sense and movement quality emerges each time in response to the wider setting and the many details in play. A girl dancing alongside, a family crossing the performance in progress, a short dialogue in between, a different position, and gesture, and way of being in contact. Yet some markers remain the same, contributing to the mesh within which the performance is made.
It begins in the fold. Lying. Listening. Opening towards sounds in the first instance. Sea, wind, birds, boats, airplanes, humans. On a small island of rock, cradled in the Baltic sea. Here I begin. Distal end of my left arm moving in relationship to my sacrum, in relationship to the rock beneath, its temperature, form, density, texture, colour, markings. In relationship to the sky above, the wind, the slanted fold on both sides, the deep time, the age of these age-old rocks, the thousands of million years present here, where once was a mountain range high and tall. Here I begin …