null
The next ISME South Asia Regional Conference is to be held in Kathmandu in 2019!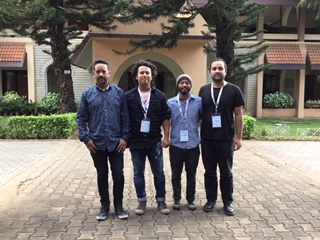 The Global Visions project, especially the Nepal Music Center (NMC) researchers, was well represented in the inaugural ISME South Asia Regional Conference in Bangalore, India. Iman Shah, Rizu Tuladhar, John Shrestha and Kushal Karki presented a well-received panel on the first steps and principles of the 3-year popular music performance program at NMC.
Conference participants were particularly inspired by how this new program combines students' perspectives and ongoing development, as well as community engagement and creativity. Developing joint teacher reflexivity has been a central part of the activities as the program development became the main learning environment for the NMC researchers when conducting their Teacher's Pedagogical Studies at the Sibelius Academy of the University of the Arts Helsinki in 2014-2017.
The founder of NMC, Santosh Sharma, also led the audience through the short but remarkable history of the Nepal Music Center, and Global Visions researchers Vilma Timonen, Danielle Treacy and Heidi Westerlund presented ongoing research results from the project.
The collaborative project between the Sibelius Academy and the Nepal Music Center continues until 2019 when the next ISME South Asia Regional Conference will be held in Kathmandu.