null
Research Pavilion #3 in Venice 2019: Research Ecologies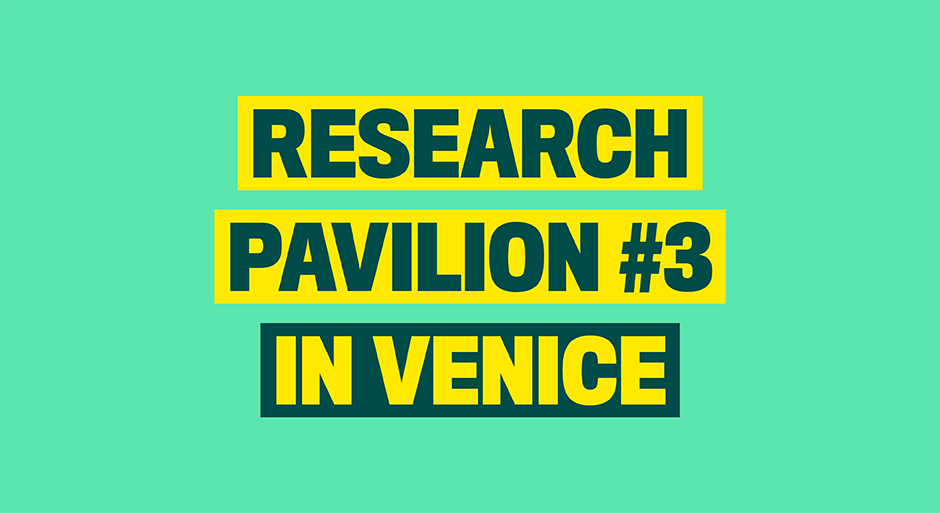 The perspectives of artistic research challenge the established art biennale context as the third Research Pavilion, hosted by the University of the Arts Helsinki, opens in Venice in May 2019.
Instead of being focused on a curated exhibition, Research Pavilion #3 offers a view on the manifold practices of artistic research. The participating researchers will showcase their work in parallel processes of exhibiting, performing, exposing and discussing artistic research.
The overarching title of the Pavilion, "Research Ecologies", refers to the rich network of approaches involved. How can a band work as a transdisciplinary research group, or in what way do artists research contaminated soil? Emerging topics in this year's Pavilion are related to ecology, humans' relationship to nature, other modes of agency, phenomenological methodologies, and speculative fictions.
The Pavilion, situated in the Sala del Camino on Giudecca, will be a vibrant, changing space that presents the multiple methods and practices of conducting artistic research. Some sections will be arranged as exhibitions, some build on participation or performative research. The artist researchers will also work together in residency periods in Venice as well as organise events, workshops, performances and discussions open to the public. Each opening day the Pavilion will offer moderated hours, inviting visitors to have a conversation with artist researchers involved. See the full programme
here.
The high season in Venice, however, is just one dimension of the Research Pavilion project. Research Pavilion #3 uses the international research database
Research Catalogue
as a collaborative space for documenting and archiving the activities of the research cells, forming a living archive of their work.
The Research Pavilion is an ongoing project created and hosted by the University of the Arts Helsinki. Research Pavilion #3 is created in cooperation with the Louise and Göran Ehrnrooth Foundation and international partner institutions: Aalto University, Valand Academy of Arts at the University of Gothenburg, University of Applied Arts Vienna, and Interlab Hongik University Seoul. The conveners of the project are Mika Elo, Professor from the University of the Arts Helsinki, and Henk Slager, professor and curator from the Netherlands.
Research Pavilion #3: Research Ecologies
9 May – 28 August 2019, 10 am – 6 pm. Moderated hours 10 am – 12 noon. Closed Tuesdays.
Opening on 8 May 2019 at 5.30 – 8.30 pm, including concert-installation by Electronic Chamber Music.
Sala del Camino, Campo S. Cosmo 621, Giudecca, Venice
Free admission.