null
Apply now for the Sibelius Summer Academy courses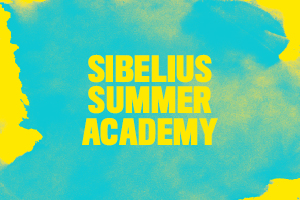 The Sibelius Summer Academy is a newly established international summer school of Uniarts Helsinki's Sibelius Academy. It will be launched in summer 2019, offering three hign-class international summer courses taught by nationally and internationally acclaimed artists and instructors. In particular, the new summer school will offer non-Finnish students the chance to experience the internationally renowned music training of the Sibelius Academy in Helsinki.
In June 2019, the Sibelius Summer Academy will welcome artists of, among others, the Royal Concertgebouw Orchestra and the Berlin Philharmonic as visiting teachers during the woodwind week. In August, the Academy will offer an organ master class with the focus on improvisation for silent films, while members of the vocal ensemble Theatre of Voices will share their insights on a cappella singing.
Apply now!
The application period for these international, high-class courses is now open. Please find the application forms below.
Please note that three courses have slightly different application periods.

WOODWINDS June 1st to 8th June 2019
Apply by February

28th

2019 (NOTE to the Sibelius Academy students: All applicants including Sibelius Academy students should complete the application form).
ORGAN ACADEMY August 1st to 7th 2019
Apply by March 30th 2019 (NOTE to the Sibelius Academy students: Sibelius Academy students should NOT fill in this application form, please enroll to the course via Web-Oodi during 25th March-3rd April, 2019.)
THEATRE OF VOICES August 19th to 24th 2019
Apply by March 30th 2019 (NOTE to the Sibelius Academy students: All applicants including Sibelius Academy enrolled students should complete the application form. The Sibelius Academy students should also include the course in their own study plan.)