null
Organ Academy will combine silent movie improvisation with the king of instruments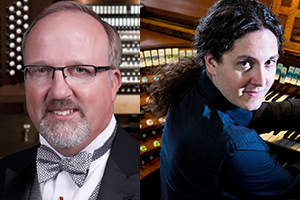 The first Organ Academy, organized by the Sibelius Academy, Uniarts Helsinki as a part of the Sibelius Summer Academy, will take place from August 1–7, 2019 in Helsinki. A special focus is improvisation on silent movies. Visiting teachers will be Peter Krasinski and Balázs Szabó.

Students from all over the world are invited to apply for the event, highlighting organ music in its diversity and presenting the high standard organs of Helsinki and Janakkala. The participants get a detailed picture of Finnish organ culture and the possibilities of studying organ and church music at the Sibelius Academy. In addition to individual tuition, also lectures, seminars and workshops are offered. The participants are also expected to perform in matinées and the final concert of the event.
Peter Krasinski is, along with regular concert appearances, specialized in the art of live improvised silent film accompaniment. Balázs Szabó is one of 5 graduates of OrganExpert, the European comission funded, world's only degree course for those who will consult church or national institutions as well as private people with organ projects (designing new organs and copies of historical instruments, supervising the maintenance, conservation and restoration of existing instruments). During the Organ Academy these specialists will be working together with the Sibelius Academy church music and organ teachers.
The Organ Academy is organized in cooperation with The Finland Chapter of the American Guild of Organists, Helsingin Urkukesä (Helsinki Organ Summer), Organ-building factory Martti Porthan Ltd, the Cathedral, Johannes, Paavali, Kallio and Pakila parishes of Helsinki and Fennica Gehrman.

More information:­­­
Susanne Kujala
susanne.kujala@uniarts.fi
Organ Academy at the Sibelius Summer Academy