null
Cultural Diversity in Music Education international conference 2019 – CDIME XIV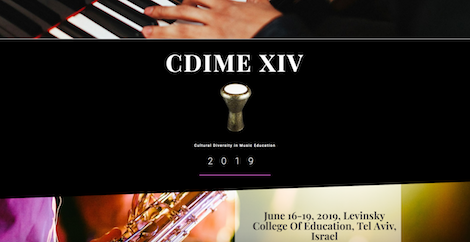 June 16-19, 2019, Levinsky College of Education, Tel Aviv, Israel
The Cultural Diversity in Music Education (CDIME) conference has provided a platform for the exchange of practices, experiences, research and philosophies on cultural diversity in music education since 1992. In 2019, the CDIME XIV international conference will be hosted by the Faculty of Music Education, Levinsky College of Education in Tel Aviv, Israel.
This year's conference will address various interfaces and interactions between politics and music education. Matters of diversity and inclusion emerge from and impact on the socio-political contexts of education. A clear example is the case of Israel's present circumstances. The conference will explore the theoretical and practical implications of social and political awareness and social activism in diverse international settings of music education.
We encourage proposals from scholars and practitioners to pursue interdisciplinary discussions of cultural diversity and the role of music educators and music education in recognizing the socio-political circumstances within which we work. We aim to inspire a critical discussion of the challenges and complexities at both local and global levels, and to envision new possibilities for music education in the future.
Contributions are sought from scholars, researchers and postgraduate students representing the fields of music education and related disciplines; musicians, music teachers, policymakers and practitioners as well as those working for local, national or transnational music-related agencies with the aim of fostering cultural diversity.
Deadline for submissions is October 15th, 2018.
Read more: https://cdime2019.levinsky.ac.il/