null
Global Visions Meeting in Kathmandu, Nepal: Half-way Through the Project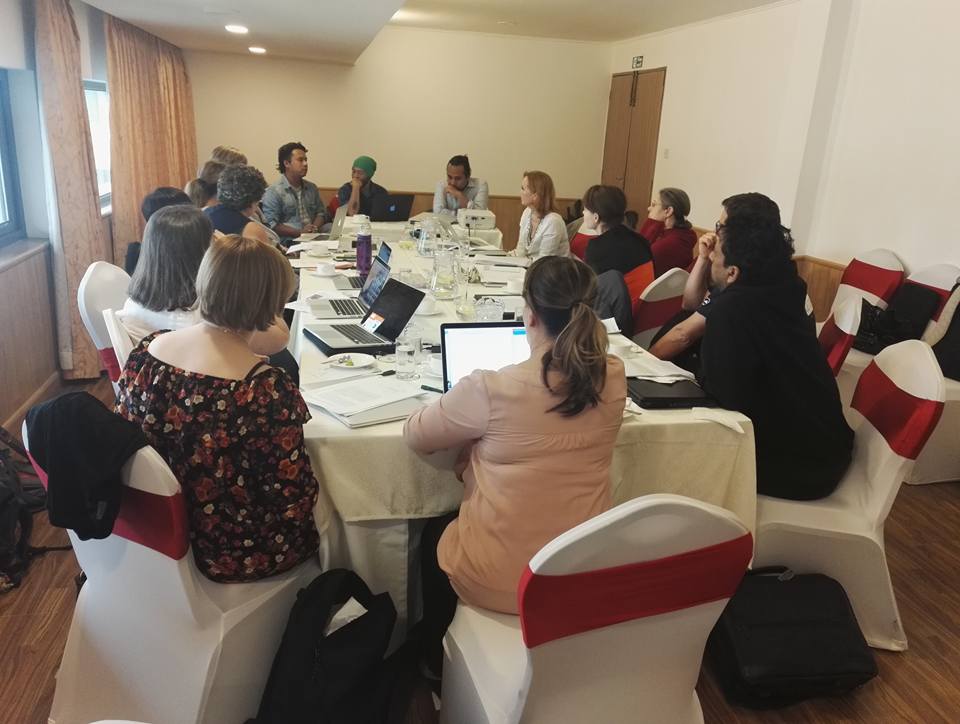 Author and photo: Alexis Anja Kallio
On Monday 27th of March and Tuesday 28th of March, the entire Global Visions research team had an opportunity to meet in Kathmandu, Nepal before the Cultural Diversity in Music Education conference in order to share and communicate ideas, plans, opportunities and challenges. We welcomed a new network member, Albi Odendaal from South Africa, whose work in Intercultural Music Teacher Education in another diverse, political, cultural and musical context brings new critical perspectives and experiences to the project.
The first day, we had opportunities to share our work-in-progress. A particular focus was a forthcoming edited volume (Eds. Westerlund, Karlsen & Partti) on Visions for Intercultural Music Teacher Education. Contributing authors gave a brief overview of their own chapters, which the group was able to discuss and reflect upon further. These conversations attended to topics and concepts such as coloniality, Whiteness, culture, tradition, change, and equality. After so many years of working together (though also new participants joining us), we continue to be surprised, challenged, and inspired by each others' ideas and work.
Later in the afternoon, music teacher-researchers from the Nepal Music Centre, Kushal Karki, Rizu Tuladhar, John Shreshtha and Iman Shah led a reflection upon Indian Socio-cultural Anthropologist Arjun Appadurai's (2004) essay: The Capacity to Aspire. Considering the implications that Appadurai's writing might have for the Nepali context, and the Global Visions project more broadly. We questioned whether music programmes serve to empower - providing opportunities for agency and aspiration, or to assimilate - requiring participants to act, sing, play, perform like those already occupying privileged positions. Democracy in music education arose as a key issue, particularly in relation to representation. For instance, Iman described a quota system that is in place, requiring education programmes to 'include' minimum numbers of certain demographic groups - ie. different genders, ethnic groups, etc. and the group reflected upon whether this was helpful, sufficient, or if programmes should (or could) be devised as to make such quotas redundant. As such, who ought to be included cannot be a question posed only to the privileged or the majority if music education is to be equitable. Yet, neither can we direct the research or pedagogical gaze only to those deemed minoritized or disadvantaged. As Rizu Tuladhar noted, through a more collaborative, complex approach we all "have an opportunity to talk more on things that we may not felt that we could or should discuss, we can share our own perceptions and listen. It is interesting to see the different sides and angles."
Tuesday morning began with an opportunity for the research team to share our work with a number of representatives from the Ministry of Education and other Nepali government departments. Danielle Treacy presented findings from her doctoral research together with Nepali researchers Suyash Neupane and Prem Gurung. Vilma Timonen and Iman Shah continued by sharing their participatory action research project, and the ongoing development of teacher education project in Nepal. The presentations inspired an engaged discussion about opportunities for Nepali music education and how to implement these ideas in a supportive, ethical, and culturally mindful way.
In the afternoon, the group looked forward to both the immediate future, and what might await us further down the road. We began by envisioning the next CDIME conference - which will be held around the same time as the Global Visions project comes to an end in July 2019. We also planned how the Global Visions group as a whole might share with and draw upon knowledge and experiences from the international community before then, at other conferences coming up in the next year. We also outlined two planned books and other publication opportunities, discussed contexts or ideas that were still unclear and uncertain that we wanted to know more about, future research tasks, environmental responsibility, what the 'mobilizing' means in our project title, and altogether generated more refined, as well as new, visions for Global Visions.
Meeting Attendees:
Principal Investigators: Heidi Westerlund and Sidsel Karlsen
International Advisory Board members: Eva Saether, Liora Bresler and Sapna Thapa
Project Researchers: Heidi Partti, Alexis Kallio, Albi Odendaal, Claudia Gluschankof, Laura Miettinen, Danielle Treacy, Vilma Timonen, Amira Ehrlich and Iman Shah
NMC teacher-researchers: Kushal Karki, Rizu Tuladhar, John Shreshtha, Suyash Neupane and Prem Gurung
Honoured Guests: Mr. Khaga Raj Baral (Secretary National Commission for Information), Mr Hari Prasad Lamsal (Spokesman/Joint Secretary Ministry of Education), Dr Shiva Lal Bhusal (Dean, Faculty of Humanities and Social Sciences, Tribhuvan University), Mrs Gyanu Radha Gorkhali (Head of Department, Department of Fine Arts and Music, Tribhuvan University), Mr Santosh Sharma (Member Secretary, NMCT), Dr. B.K. Ranjit (Director, NMCT)