null
Global Visions Team Member Invited to be Guest of the Month at Kathmandu University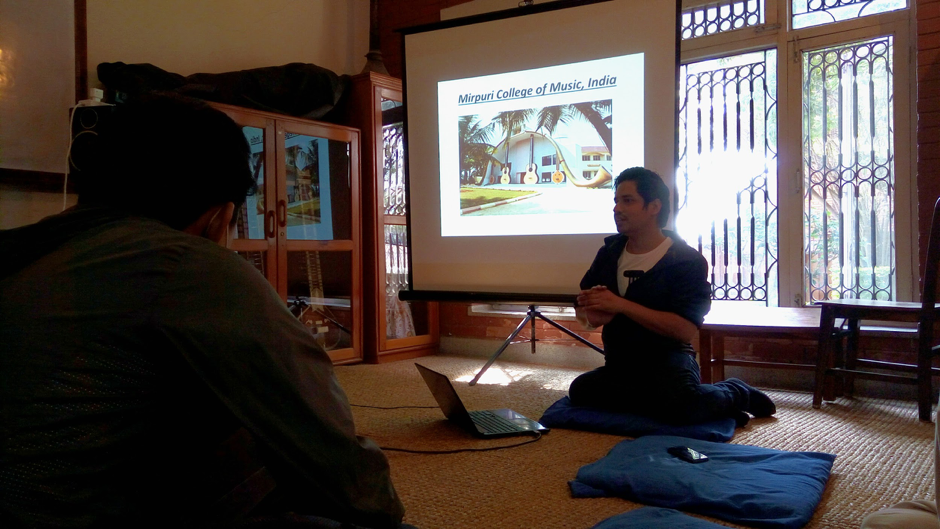 On May 5th, 2017 Suyash Kumar Neupane was invited to be "Guest of the Month" in Kathmandu University's Ethnomusicology Department.
During this presentation he shared his personal journey with regards to studying music until the time he graduated from Kathmandu University in 2015. After that, he spoke about the different projects he has been fortunate to be a part of, like Echoes in the Valley and the Cultural Diversity in Music Education (CDIME) 2017 conference.
Suyash shared his experiences presenting at CDIME 2017 as co-author with two other Global Visions team members, Danielle Treacy and Sapna Thapa. He shared his perspectives on the co-authoring process, and some of the ideas that were discussed in the CDIME conference as a whole that were of interest to him. In doing so, he offered ideas on how he does his research, and the steps that could be taken to enjoy and thrive academically while studying Ethnomusicology at Kathmandu University. In a country like Nepal where access to the latest publications in the field isn't always possible, Suyash suggested that fellow students not confine themselves to the department and peer-circles, but also look out for events held within the country by other music institutions or national/international webinars, to ensure that their network of similar minded people grows along with their knowledge.
After the event, Suyash received much positive feedback and requests for advice from the students. The presentation was much loved and appreciated, especially the parts related to "How I do research?", personal experiences regarding fieldwork, and CDIME 2017. The "There is no box (when it comes to career)!" section was what lightened up the mood of the semi-academic presentation, owing to Suyash's experience as a TOEFL instructor, music teacher and web-content creator - you don't necessarily become what you study.
The students have continued to keep in touch with him after the presentation, often for help for their projects, or to simply invite Suyash to their musical or academic events.
Author and photo: Suyash Kumar Neupane