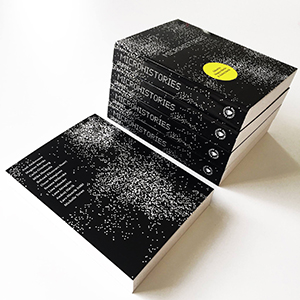 Microhistories is a project and anthology that will be hosted by Magnus Bärtås (Konstfack) and presented together with lectures by artist/PhD candidate Behzad Khosravi Noori (also in the "You Gotta Say Yes to Another Access" exhibition) and curator and theoretician Suzana Milevska. The presentation includes a screening of a work by Iranian filmmaker Pirooz Kalantari.
Photo: Sandra Praun


When institutions digitize their exhibitions, should also analogue conventions be (re)produced? How do agreements and tacit rules translate into replication of (gallery) spaces, online (re)presentation of artworks, and (simulated) autonomy of access?
While approaching Google Arts & Culture from singular methodologies, Mireia c. Saladrigues and Mario Santamaría revolve around the (potential and non-potential) pitfalls, gaps, and epistemologies of encountering art in virtual environments.
Photo: The Non-Imaginary Museum. National Museum of Modern and Contemporary Art, Korea. Mario Santamaría, 2013-2015

The two-hour presentations & discussion session is proposed as a critical amplification of Vincent Roumagnac's artistic research project 'Backdrop' shown in the exhibition. It is generated from the interest to diffract the research focus on expanded theatre and time ecology by discussing assumptions, perspectives and prototypes on the theme of 'Future Stages / Stage Futures', under the umbrella-topic of the Research Pavilion 'The Utopia of Access' and on the intersection of artistic research, performing arts, philosophy and architecture. The session will consist of two presentations and one collective exercise followed by an open discussion. By Vincent Roumagnac, Emmanuelle Chiappone-Piriou and Esa Kirkkopelto.

Photo: View of the installation The Theatre Season [Redux] by Vincent Roumagnac - Photo: Aurélie Pétrel (2016)

Two new books are presented, fresh from the press:
Florian Dombois (ed.): "The Wind Tunnel Model. Transdisciplinary Encounters". Zurich: Scheidegger & Spiess, 2017 – http://tinyurl.com/windtunnelmodel

Florian Dombois, Julie Harboe (eds.): "Too Big To Scale. On Scaling Space, Numbers, Time and Energy". Zurich: Scheidegger & Spiess, 2017 –http://tinyurl.com/toobigtoscale

Selected authors read from their chapter and discuss issues of art, research, wind, models and scale: Florian Dombois, Isabel Mundry, Martin Burr, Haseeb Ahmed, Julie Harboe, Kaspar König and Reinhard Wendler. The event is moderated by Andrea Curtoni, Florian Dombois and Giulia Mazzorin.

Organised by Zurich University of the Arts/Florian Dombois.


The Pen is mightier than the Word is a video work about artificial intelligence, research, Sci-Hub and Open Access publishing of research.


This unhinged and precarious spectacle is re-orchestration of a "cinematic event" and "the narrative" with the help of strips of found footage film and by using deconstructed elements of the cinematic projection process. This assemblage is combined with some live micro camera feed, which will slowly unravel itself.
Photo: Sami van Ingen

Royal Institute of Art, Stockholm presents artistic research projects providing entries into wider notions of open access. Writer and researcher Mara Lee elaborates on ways to imagine agency and accountability through the inscription of desire. PhD candidate Emanuel Almborg screens "Talking Hands", a film about pedagogy at the Zagorsk school for deaf-blind children, and PhD candidate Maria Chehonadskih lectures on communist individuation in Soviet Marxism and beyond.
In photo: Mara Lee

PERFORMANCE WEEK (week 20)

A workshop, a seminar, performances and screenings addressing accessibility and performance, performing materiality past and present, as well as technology and mediation of performance. Organised by the Academy of Finland funded research project "How to do things with performance?" with Tero Nauha, Pilvi Porkola, Hanna Järvinen, and Annette Arlander.
Photo: Pilvi Porkola


As artistic researchers we are engaged with the process of exposing our research. These processes of exposition are naturally uncovered as documents of many kinds. This project is an attempt to grasp these processes as impermanent presentations, a kind of intervention and temporary counterpoint to the Research Pavilion. Antitheses is a project by doctoral researchers Matthew Cowan, Leena Kela, Ilya Orlov and Anssi Pulkkinen from Uniarts Helsinki (the University of the Arts Helsinki) in collaboration with Doctoral researchers in the arts from the University of Auckland.
Photo: Antitheses, copyright Matthew Cowan


After the launch of the 5th generation of Dark Pools in El Segundo, serious decay happens in the fissures of the leftover population
a financial crisis task forced entertainment operation featuring
Discoteca Flaming Star, Frans Jacobi, Benedicte Clementsen
with special guests:
Brett Scott
Super Heavy Metal
30.5.2017 & 31.5.2017 at at 4pm-7pm
Dark Pools is an emerging format of secret, algorithmic stock trading with an increasing impact on global economics. Based on the method of 'semantic fields', Synsmaskinen have created an art project that 'bounces' off the opaque surface of the Dark Pools and shapes a reflective universe, part fiction, part wild research. 2061 INMORAL LIDOS relates to the theme Utopia of Access by exploring an area of the exact opposite – a fundamentally closed system of financial value and power.
Photo-credit Synsmaskinen.