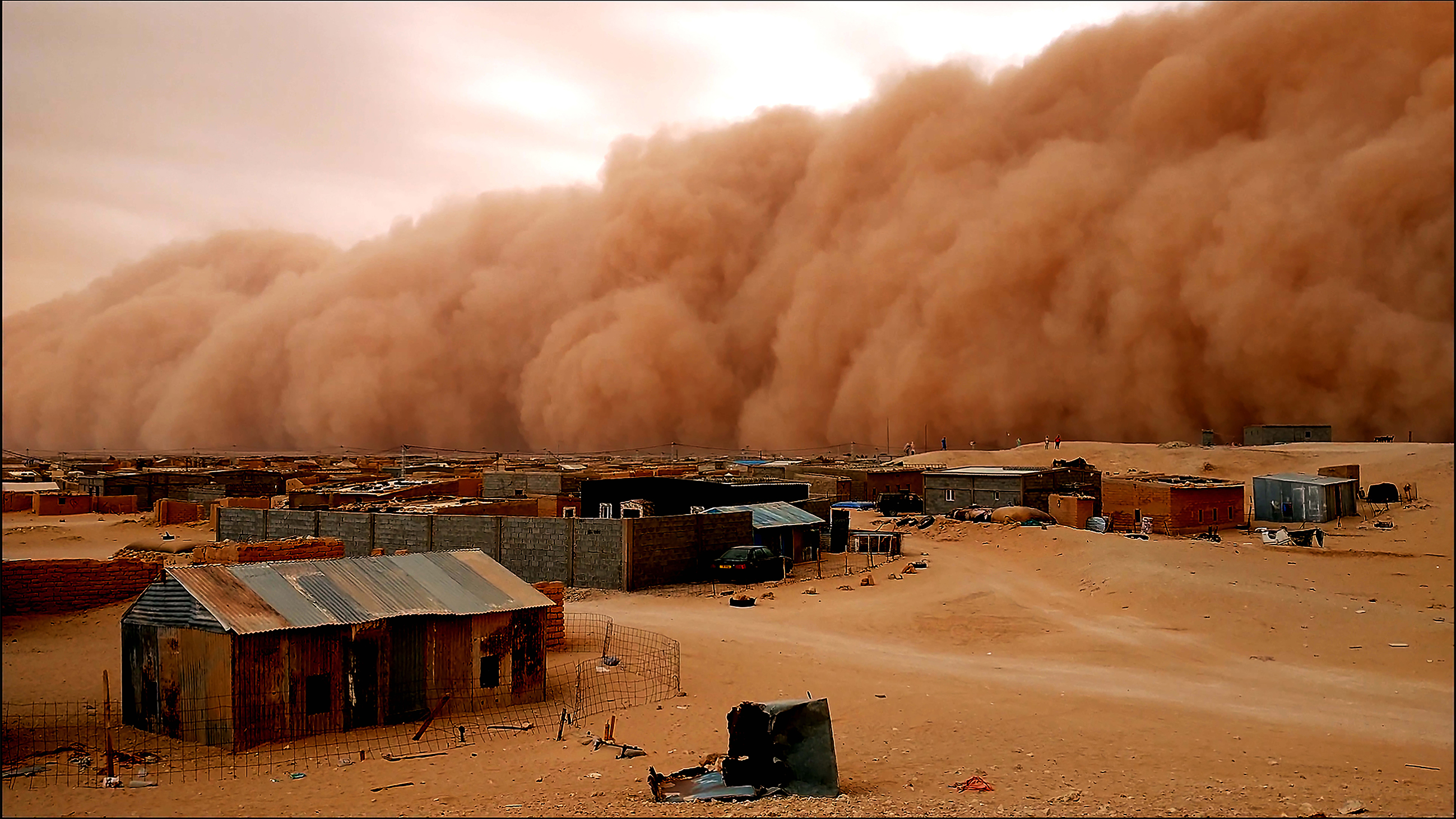 Sandstorm in Samara refugee camp in Hamada Desert. Photo: Mohamed Sleiman Labat
Artistic Research and City Space 2
Host: Maiju Loukola, University Lecturer, Academy of Fine Arts, Uniarts Helsinki

Onsite and streamed on the Uniarts Helsinki YouTube channel.

Onsite venue: The White Studio (Valkoinen studio), Uniarts Helsinki's Sörnäinen campus, in the Academy of Fine Arts building Mylly (Sörnäisten rantatie 19, Helsinki).
The two first days of the event focus on artistic research, urban space, and spatial practices.
Read keynote speakers and presenters bios here.
Parts of the program has been made possible through Uniarts Helsinki´s Academy of Fine Arts partnership with the Saastamoinen Foundation and by funding from the Kone Foundation.
PROGRAM
Tuesday, 13 December 2022
Time zone: UTC +2
9:00–12:00 ECOLOGIES, PRACTICES
9:00–9:30 Stefan Winter, Artistic Research & the City Space
In an increasingly widespread tendency, we see a tectonic shift in the self-understanding of architecture, urban research and design that is slowly starting to happen in the Global North and in the Global South. This shift leads us away from top-down planning towards mediated bottom-up processes where all stakeholders in urban development can be involved, and away from considering the city space primarily as a built environment, as a hard infrastructure, towards comprehending it as a habitat, taking into account the "soft infrastructure", the cultural lifeworld dimension with its orientations and identities that make the city work. In this aperture, work profiles in architecture and urban design are changing, and artistic research in the variety of its disciplines can unfold its impact in urban development processes. My talk recollects an earlier, historical approach to bring artistic research, architecture and urban design together in the Lettrist and Situationist movement. A discussion of dérive, psychogeography and their related utopia leads to a glimpse into the wide field of contemporary approaches, which is unfolded along concrete samples.
9:30–11:30 Alex Arteaga: Contingent practices, contingent artifacts and dispositives for very slow observation
How to become aware of an environment as an emerging, all-over surrounding presence? How to research an environment being oneself the embodiment of a co-emergent subjectivity? How to establish contact with the contingent agencies that enable these intertwined transformative process? This session will present a research approach devoted to address these and related questions in a non-reductive way through aesthetic research practices. Based on specific research projects, different practices in the media of language, photography, video and sound recording, some tactics of organization of the artifacts that these practices produce, and the conceptual framework in which these projects are realized will be discussed.
11:30–11:45 Pause

11:45–13:00 Pekka Niskanen and Mohamed Sleiman Labat, PhosFATE. The Effect of Phosphorus on the Baltic Sea and the Saharawi people in the Hamada Desert
Small scale family gardens started to emerge in the Sahrawi refugee camps in the Hamada Desert, southwest Algeria around 2002. Leading figures in the process are Sahrawi agricultural engineers and gardeners who have been researching and developing the garden practices together with the families. The theories and practices have become rulebased knowledge in the community. PhosFATE project deals with phosphate and its effects on two vastly different environments. Phosphate from Western Sahara has ended up in the Baltic Sea to cause eutrophication. Niskanen and Sleiman Labat use the concept of discourse as an analytical tool in the project that entails films and videos as well.
13:00–14:00 Lunch break (not included)
14:00–15:00 KEYNOTE INTERVENTION
Julia Chryssostalis, Nomic topographies of the modern

15:00–15:30 Coffee pause
15:30–19:00 URBAN SPACE AS A PALIMPSEST + SOUND CITY SPACE
Curated by Stefan Winter
15:30 Stefan Winter [Potsdam / Johannesburg], Introduction
15:40 Christo Doherty [Johannesburg], Artistic Research in South Africa
Artistic Research is a relatively new phenomenon in the South African academy. In common with the development of AR in the European and Anglophone academies the initial focus in South Africa was on the requirements for a PhD by artistic/practice-based research. This focus soon expanded to arrangements whereby research based on creative practice was recognised by several universities in the form of internal subsidies. This was followed by recognition of artistic/practice-based research at the national level by the South African Department of Higher Education and Training in 2019. The next significant step was the launch of the Arts Research Africa project at the University of the Witwatersrand which specifically addressed the role of Artistic Research in the African context through a range of initiatives, including two international conferences, the first in 2020, and the second in 2022. In my video presentation, I will summarise the outcomes of these conferences and the directions which Artistic Research is taking in Africa.
I. Urban space as a palimpsest. Scars, holes, memory traces
16:00 Tanja Sakota [Johannesburg], Searching for memory in space and place: a critical look at my film Shattered Reflection
The memory of the past lies locked in the locations and sites, silent and frozen in a moment in time that is no longer visible. Tanja Sakota's short documentary "Shattered Reflection" aims to unveil the secrets that are hidden within the walls, pavements, streets and forests. Using an experimental autoethnographic format, the film challenges conventional methods of representation as the locations and landscape act as active characters within narrative construction. The film does not follow a logical sequence of cause and effect, but rather represents the fragmentation and inconsistency that becomes apparent with the act of remembering. Using different narrative structures (poetry, the masked interview and self-reflection) Tanja Sakota re-imagines the invisible traces that were erased by redefining borders."
16:30 Mocke J van Veuren / Prince Massingham / Neo Monyamane [Johannesburg],
How to Build a Beehive: A collective film project in Kliptown, Johannesburg, South Africa
Between 2016 and 2022 a collective filmmaking project has taken shape in Kliptown and Eldorado Park, Johannesburg. Sprouting from the stories and characters created by Kliptown resident Prince Massingham, the production of a short film "Die Matras" (2019) was followed by a feature film, "The Beehive" (2022). Both of these productions emerged directly from the communities of Kliptown and Eldorado Park, with non-professional actors and crew. Delivered in a local dialect of Afrikaans, the films are a bold exercise in self-representation and expression of creative knowledge-making. The films were both screened in the community at the open-air ruins of the historic Sans Souci Bioscope, a cultural and community icon in its day. The deep engagement with filmmaking practice and local-language storytelling, focusing on the lived realities of one of the oldest and most culturally diverse urban neighbourhoods in Johannesburg, is the foundation of an ambitious project to develop locally-centered filmmaking, animation, and other arts in terms of both education and creative production. The presentation will focus on questions of collectivity in local and indigenous knowledge creation (by whom and for whom?), and a critique of the role of public institutions of knowledge such as universities.
17:00–17:15 Coffee break
II. Sound City Space
17:15 PlayGroup (Jill Richards / BJ Engelbrecht / Jurgen Meekel) [Johannesburg],
Noninstitutional Excavations
"Noninstitutional Excavations" was a weeklong intervention that aimed to use sound, performance, film, and installation art to function interactively between social bodies and the urban environment, particularly 7th Street Melville, Johannesburg. PlayGroup, The Brother Moves On, Motathi Masebe, Refiloe Namise, Shameelah Khan, and Jéad Stehr, Wits Fine Art students, as well as several guests, worked together throughout the week to create the week's activities. Each artwork, intervention and performance attempted to lift the veil on our urban affective interdependencies by using, the building, the street, intersection, and street corner as a physical and metaphorical vehicle to highlight various networks of exchange and how these networks form ephemeral communities. This brief transformation of a seemingly mundane site into a creative axis of resistance, subtly alluded to the equivocality of the chosen site – not quite suburban, not quite urban.
17:45 Uygur Vural [Berlin / Istanbul], In Tune With The Built
"Music is sounds, sounds heard around us whether we're in or out of concert halls"
–John Cage
"In Tune With The Buil" is an art project exploring the relationship between music and architecture. It has evolved from my curiosity about acoustic environments and the sounds of ordinary life. While moving and acting in spaces of our everyday life, we are surrounded by many different sounds, such as the hum of a computer, footsteps, and the rustling of somebody's skirt, which we are not attentively listening to. By focusing on architectural spaces I aim to draw attention to these ignored or unnoticed sounds that accompany our existence. Every building possesses specific features and its own atmosphere that I explore and utilize in my productions. To discover the characteristics of an architectural space, it is inevitable that I spend much time in the place, live in it, and use its facilities by attentively listening to its soundscape. Thus, I am able to interact directly with the building and experience its sonic and visual ambiance. Each following work of "In Tune With The Built" will be based on another interaction with new and different architectural environments.
18:10 François Sarhan [Berlin], Prague, façades: film with music
I lived in Prague from 2011 till 2015. During these years I've spent days walking in the city to and fro, more than in any other. From these long walks i've asked myself a set of questions about the role of the decorative elements on the facade, which are sometimes extravagant. I've come to the hypothesis that Prague's facades are pages of an alchemical book on display. Each decorative element is a symbol and the totality, if properly deciphered would unveil the philosopher's stone. My movie "Prague" (20 min, 2019) illustrates this irresponsable hypothesis.
18:35 Emeka Ogboh [Berlin / Lagos] in conversation with Stefan Winter
Emeka Ogboh is a sound and installation artist from Lagos based in Berlin where he recently put up two site-specific sonic installations. "Ámà: The Gathering Place" transformed the atrium of a major Berlin museum, the Martin Gropius Bau, into a place to commemorate the basic sense of community. In the center of the classical building a large, sculpted tree wrapped in traditional Akwétè weavings was surrounded by seats that invited to sit down and listen to a soundscape of Igbo folk songs. The multisensory ensemble evoked the way people are coming together in the daily life of an Igbo village. "Der Kosmos – Things Fall Apart" was an installation on the roof terrace of Humboldt Forum, a Berlin institution that was central to the discussion about the restitution of art taken away from Africa. An array of twelve loudspeakers, wrapped in colorful African weavings, played Igbo chants under the open sky in the visual axis of the Berlin Dome. Our talk will revolve around the ways in which Emeka Ogboh's multisensory installations recode and transform spaces, while unfolding their inherent decolonial quest, and it will also consider the fluidity / solidity of social structures in Lagos and Berlin.
19:00–19:15 ARTISTIC RESEARCH AND CITY SPACE AFTERMATH
– closing discussion with Stefan Winter