null
CARPA8 gathered participants from 22 different countries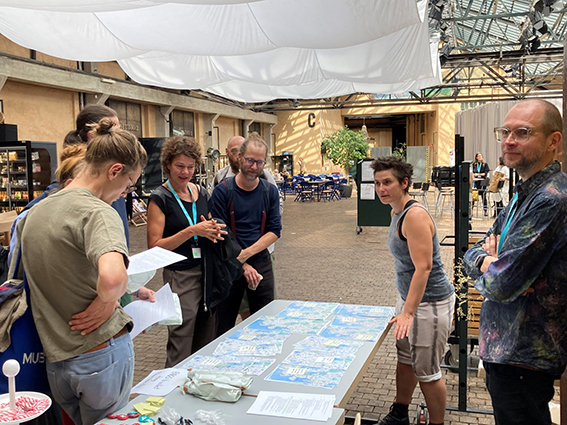 CARPA8 participants at Theatre Academy. Photo: Johanna Rauhaniemi

CARPA8 Conference SOLVITUR AMBULANDO 'solved by moving' DRAMATURGIES OF ARTISTIC RESEARCH was held on 24-26 August 2023 at the Theatre Academy. The conference was arranged by the Performing Arts Research Centre (Tutke) in collaboration with the Comparative Dramaturgy and Performance Research Programme of the Theatre Academy, University of the Arts Helsinki.
This convening, a colloquium & laboratory, brought together two processual activities and kept them in motion: dramaturgy and artistic research. CARPA8 inquired what happens to artistic research when it takes a dramaturgical twist. How can and how do we forward generative, wandering crossovers between the two? The event, dynamic in form and content, aimed to combine embodied artistic practice and demonstration with timely conceptualisation and theorisation. It assembled artists and practitioners from the performing arts field with innovators, researchers, and theorists to explore, experiment and discuss how expanded notions of artistic research and dramaturgy cross-fertilise these fields and beyond.
CARPA8 Conference had three Plenary Session presentations, 27 other presentations, three Setting things in Motion and three Overview workshops. The Plenary Session presenters were Synne Behrndt (University of the Arts, Stockholm), Marcela A. Fuentes (Northwestern University ) and Hanns Holger Rutz (Gustav Mahler Private University for Music). In addition, there were Solvitur ambulando outdoor walks in groups and a selection of short films presentation. All together CARPA8 had 90 participants from 22 different countries. CARPA8 Conference Committee consisted of Leena Rouhiainen (Chair), Otso Huopaniemi (Chair), Katalin Trencsényi and Jess Applebaum.