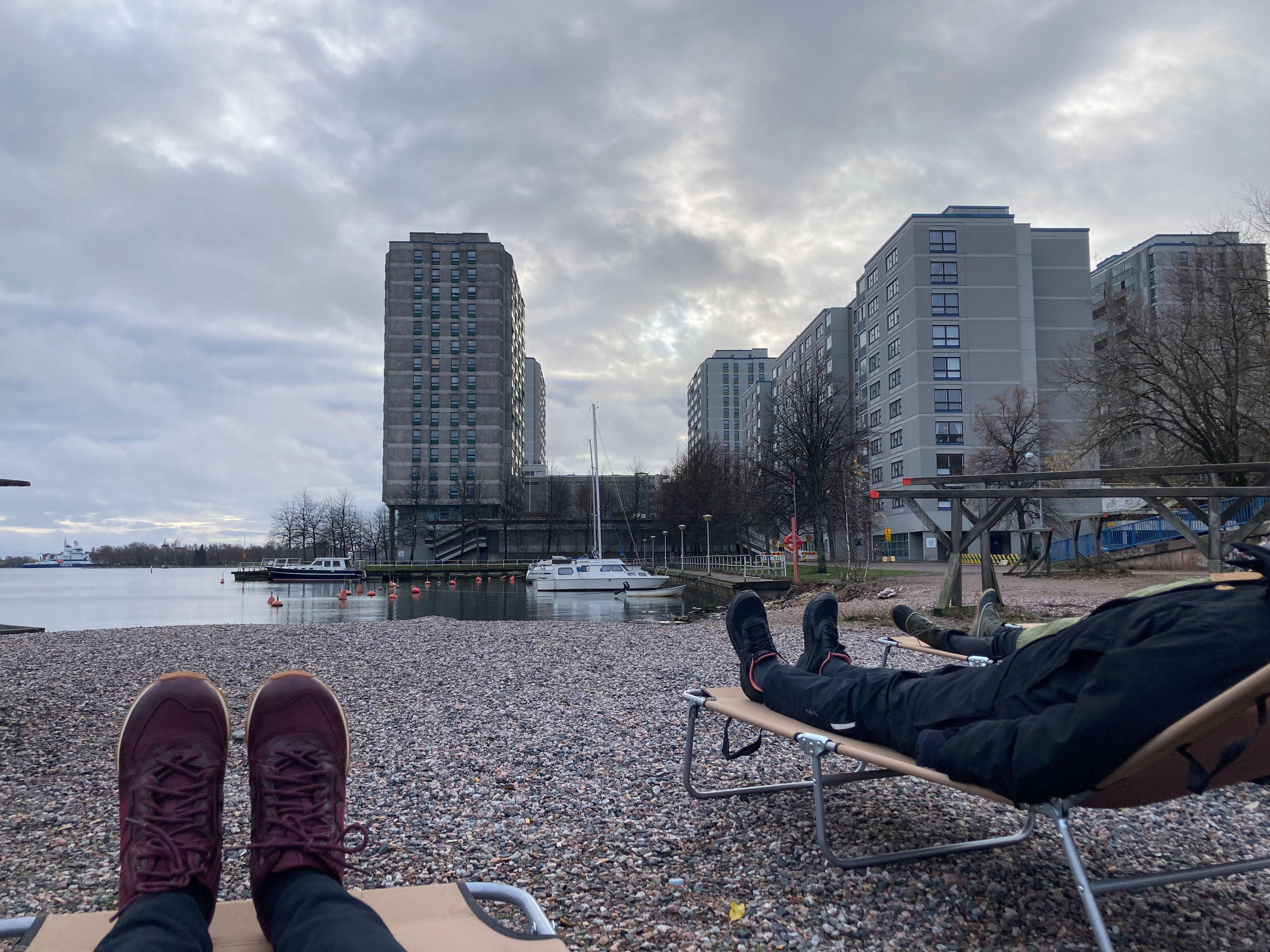 Image: Interim exhibition project image, Sörnäinen shoreline. Mia Seppälä, 2022.
Exhibition
Mia Seppälä, Salla Myllylä and Nanni Vapaavuori
INTERIM
16.–22.12.2022


Open Mon-Sun, at 11:00-19
Venue: The White Studio (Valkoinen studio), Uniarts Helsinki's Sörnäinen campus, in the Academy of Fine Arts building Mylly (Sörnäisten rantatie 19, Helsinki).
INTERIM is a brief exhibition by three doctoral researchers in the darkest time of the year, between university terms, in a building emptied by the approaching seasonal festivities.
We present temporary experimental arrangements using moving image, wood, curtains, beach chairs, blankets, and light. All the material elements are borrowed from other projects and uses for the occasion and will be returned to their origins after the exhibition.
We take a closer look at the hybrid studio space conceived for the needs of both visual and performing arts. It reminds us of other spaces – theater studio, school gym, practice room – but retains a distinct sense of oddness. Its material arrangements bear traces of negotiations, misunderstandings, and makeshift ingenuity which we want to highlight.
In another strain, we transpose acts made previously in other sites – a sanatorium and a public beach – to the urban shoreline across the road from the campus. We borrow the gesture of doubling from the studio space by saying the same thing twice, using the same effect twice and letting the works overlap.
An event is arranged at the winter solstice, on the shortest day of the year 21.12.2022 on the Sörnäinen shoreline.
Read more about the event and access online form for registration
The collaborative exhibition unfolds in the space over the course of several weeks. We work in White Studio for a week in early December, part of our installation is already in place during KuvA Research Days, and work will continue until the opening day.
The exhibition has been supported by TAIKE